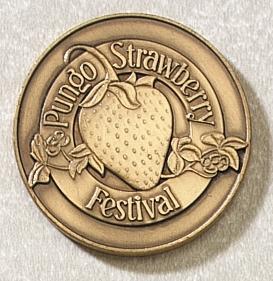 Click to Enlarge
3625-B - Die Struck Brass Coins
| Style | Description | 250 | 500 | 1000 | 2500 | 5000 | 2D 1 Sided Die | 2D 2 Sided Die | |
| --- | --- | --- | --- | --- | --- | --- | --- | --- | --- |
| 3625-B-1 | 1-1/2" x 2.5mm thick | 4.22 | 3.52 | 3.20 | 2.82 | 2.64 | $100.00 | $190.00 | 5P2V |
| 3625-B-2 | 1-1/2" x 3mm thick | 4.66 | 3.92 | 3.54 | 3.16 | 2.96 | $100.00 | $190.00 | 5P2V |
| 3625-B-3 | 1-3/4" x 2.5mm thick | 5.00 | 4.34 | 3.82 | 3.46 | 3.20 | $115.00 | $205.00 | 5P2V |
| 3625-B-4 | 1-3/4" x 3mm thick | 5.40 | 4.64 | 4.16 | 3.76 | 3.50 | $115.00 | $205.00 | 5P2V |
| 3625-B-5 | 2" x 3mm thick | 7.10 | 6.26 | 5.68 | 5.18 | 4.88 | $130.00 | $220.00 | 5P2V |
Price Includes: Bright Goldtone, Bright Silvertone, Anitque Bronze or Antique Silvertone Finish, Individual Polybag.
Optional Finish: Bright Gold Plating or Sandblasted with Polished Highlights - Contact Factory.
Soft Enamel Colorfill: $0.20(P) per color per side.
Medallions with Loop: $0.30(P).
Neck Ribbons & Pin Back Ribbons for Medallions: Contact Factory
Optional Packaging: Click Here
3 Dimentional Imprints: 3mm minimum thickness, No Per Piece increase.
3 Dimentional Tooling: 1 Sided Die Charge: Add $75.00(V) to die charges listed, 2 Sided Die Charge: Add $150.00(V) to die charges listed.
Pre-production Sample: $75.00(V) plus tooling charge
Lead Time: Sample 3 - 4 weeks. Production 3 - 4 weeks after sample approval
NOTE: We must be notified prior to ordering if this product will be shipped to or distributed in the state of California.