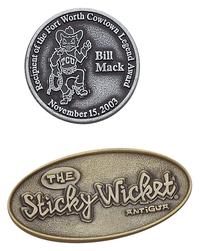 Click to Enlarge
6500 - Cast Zinc Coins
| Style # | Size | 125 | 250 | 500 | 1000 | 2500 | |
| --- | --- | --- | --- | --- | --- | --- | --- |
| 6500-1 | Up to 1-1/2" | 4.34 | 2.76 | 2.16 | 1.96 | 1.80 | 5P |
| 6500-2 | Up to 2" | 5.54 | 3.50 | 3.06 | 2.90 | 2.70 | 5P |
| 6500-3 | Up to 2-1/2" | 8.40 | 5.20 | 4.66 | 4.30 | 3.96 | 5P |
| 6500-4 | Up to 3" | 11.26 | 6.90 | 6.26 | 5.70 | 5.22 | 5P |
Price Includes: Anitque Bronze, Antique Copper or Antique Pewter Finish
Optional Finishes: Hand Satin Pewter, Bronze or Copper: $1.50(P) up to 2"; $2.50(P) over 2".
Epoxy Colorfill: $1.50(P) & up, per Color, depending upon area.
Packaging: Individual Polybag. Gift Box available; Click Here.
Tooling: $250.00(V) & up per side depending upon detail & size. Actual tooling charges will be quoted after receipt of artwork.
Pre-Production Sample Charge: $75.00(V) plus tooling/screen charge.
Lead Time: Sample 3 - 4 weeks. Production 3 - 4 weeks after artwork or sample approval.